QUEENSLAND ISLANDS
The Queensland coastline is dotted with magnificent islands that stretch out like a string of perfect pearls waiting to be discovered. Many of them are declared National Parks each offering its own special blend of experiences and wildlife encounters.
The Great Barrier Reef is divided into five distinct precincts each offering a unique set of experiences, whether its a 'Robinson Crusoe-style adventure', family fun, a luxurious romantic getaway or a simple escape to the sun, you will find your own slice of paradise.
NORTH QUEENSLAND
Haggerstone Island
Castaway to the remote Haggerstone Island, situated on the Great Barrier Reef in Far North Queensland. Here you will appreciate unparalleled fishing, spearfishing and adventure. This luxury private island features an all inclusive boutique resort that has taken over 30 years to create. Individually designed lodges blend seamlessly along the island foreshore each private villa with its own pristine beachfront and sea view. Getting there is part of the adventure...
Lizard Island


Luxury, Romance
Lizard Island is situated 250km north-east of Cairns with flights operating daily from Cairns. The stark, rugged beauty of Lizard Island, rising 359m above sea level, contrasts sharply with the sparkling blue waters and rich fringing reefs surrounding the island group. Lizard Island Resort is truly secluded from the rest of the world. It is the most northern resort in tropical Queensland and is located directly on the Great Barrier Reef.
Featuring 40 luxurious suites, this island is reserved for the fortunate few. 24 powdery-white beaches frame the island where you can enjoy a secluded picnic or sunset beach degustation.
Thursday Island
Thursday Island is located approx 39km north of Cape York Peninsula in the Torres Strait. The island is home to the Indigenous Torres Strait Islanders whose culture is rich in the arts and whose lifestyle has evolved from the sea and its abundance of wildlife. Thursday Island has modern accommodation and tours plus incredible fishing in the surrounding waters. You can reach Thursday Island via Horn Island either by plane from Cairns or Bamaga or by boat from Bamaga.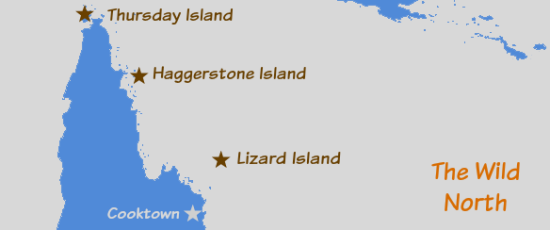 CAIRNS & PORT DOUGLAS PRECINCT
- offering adventure & adrenalin -
Boasting a unique environment where world heritage rainforest meets the reef. There's nowhere else in the world where you'll find two world heritage listed natural wonders side by side and so accessible to travellers. Here you'll find the hotspots for tropical experiences and nature-based adventure, and with a year round tropical climate anytime is a great time to visit.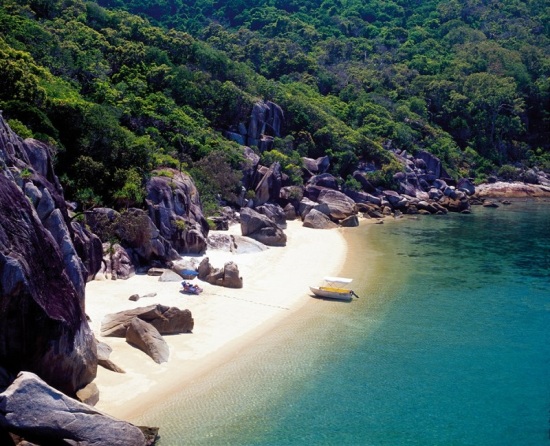 Bedarra Island
Luxury, Romance
Bedarra Island is part of the Great Barrier Reef Marine Park, located approximately 10 kilometres off the tropical North Queensland coast, midway between Townsville and Cairns, with the nearest coastal town being Mission Beach. Covering 100 hectares of tropical rainforest, Bedarra Island is renowned for its pristine coral sandy beaches, giant granite boulder formations and Australia's most unique luxury resort.
Dunk Island
Dunk Island is Australia's most spectacular and breathtaking tropical rainforest island. Situated just 4km off the tropical North Queensland coast, opposite the town of Mission Beach, the island forms part of the Great Barrier Reef Marine Park.Cloaked in dense rainforest, the island supports many species of birds, insects, reptiles and mammals including the brilliant blue Ulysses butterfly that has become a symbol for Dunk Island.
In February 2011 Cyclone Yasi crossed over Dunk Island severely damaging the resort which remains closed.
Fitzroy Island
Couples, Singles, Family Fun
Fitzroy is a large continental island situated just a short 45 minute ferry ride from Cairns, on the Great Barrier Reef. The majority of the island is national park, covered in rainforest with its own fringe coral reef system surrounding. There is 1 established resort on the island ideal for families or a romantic gateway. Popular with day visitors and overnight guests, island facilities include walking tracks, glass bottom tours, kayaking, snorkelling, a diving school and Foxy's bar.
Green Island
Couples, Family, Luxury
Green Island is a beautiful coral cay located on the Great Barrier Reef, just 27km offshore from Cairns. The island was formed approximately 6,000 years ago by waves depositing sand, coral and other debris onto its coral foundations. Today the island supports a range of vegetation, and out of the 300 sand cays on the Great Barrier Reef, Green Island is the only one with a rainforest. Snorkel off the beach, circumnavigate the island in 45 minutes, kayak, parasail or simply relax. Green Island is a popular option for day trippers, there is one luxury resort on the island and once the day visitors have left the island is yours.
Hinchinbrook Island
Hinchinbrook Island is located 8km off the Queensland coast at Cardwell in North Queensland. Hinchinbrook is one of Australia's largest island national parks (39,900 ha). set within the Great Barrier Reef World Heritage Area. The island is famous for its overland Thorsborne Trail which covers a distance of 32km one way. Hike through a smorgasbord of changing landscapes and habitats including rainforest, open eucalypt forest, banksia forest, and mangrove and paperbark country. Commercial ferries service both ends of the Thorsborne Trail.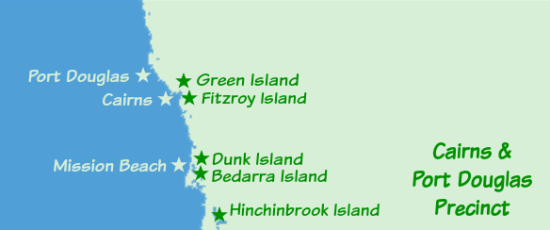 TOWNSVILLE PRECINCT
- focused on learning & conservation -
This tropical region is the home of Great Barrier Reef conservation, with the Great Barrier Reef Marine Park Authority (GBRMPA), James Cook University and the Australian Institute of Marine Science all based here. It is also home to one of the top dive sites in the world - the SS Yongala Wreck.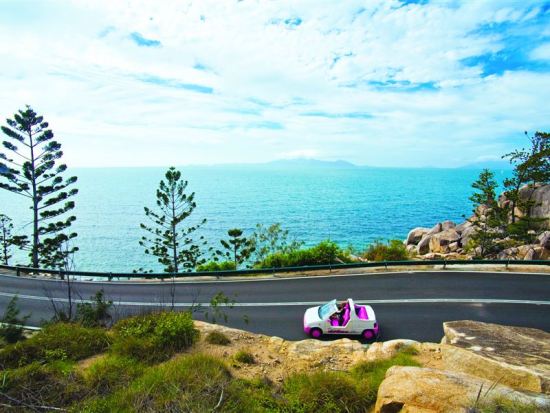 Magnetic Island
Nature, Family, Singles
Magnetic Island is located 8km from Townsville in North Queensland and is the only Great Barrier Reef island with its own postcode. Classified as a 'suburb of Townsville', more than 2,500 people call "Maggie" home including Northern Australia's largest colony of wild koalas and many rock wallabies. Just over half of this island is protected as National Park and amongst this you will find 40km of coastline to explore, and 25km of walking trails.The island offers a variety of self-contained accommodation as well as backpacker hostels, resorts and holiday homes.
Orpheus Island
Foodie, Couples, Romance
Orpheus is a secluded luxury island hideaway accommodating just 28 guests, located just 80km north of Townsville. The island comprises of a pristine National Park, situated amidst the magical waters of the Great Barrier Reef. Access is either via a 30 minute helicopter journey from Townsville, or a 1.5 journey from Cairns. There are plenty of beautiful bushwalks and scenic lookouts to discover. Enjoy the tranquility and relaxation, this is the perfect couples romantic getaway.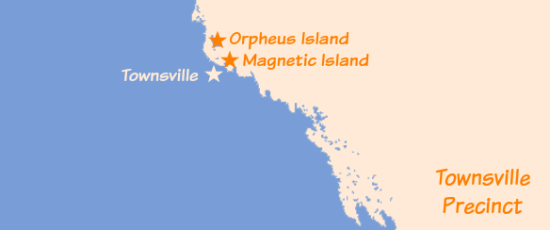 WHITSUNDAYS & MACKAY
- stylish islands & sailing adventures -
Explore the stylish Whitsundays, famous for their 74 tropical islands, only a handful which have resorts on them. The most well known resort islands include Hamilton Island, One&Only Hayman Island and Daydream Island Resort and Spa. Home of Heart Reef and famous Whitehaven Beach, consistently rated amongst the top beaches in the world. The Whitsundays is a place of stunning natural beauty and breathtaking experiences.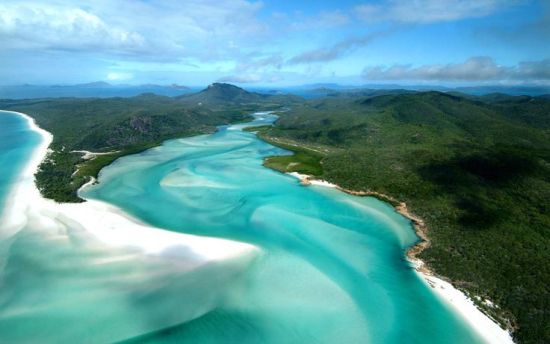 Brampton Island
Brampton Island National Park is located at the southern entrance to the Whitsunday Passage, 32km north of Mackay.The island is one of the most scenic off the Queensland coast featuring rocky headlands dotted with hoop pines, open grasslands, woodlands, sheltered bays and 12 stunning beaches. The surrounding waters are part of the Great Barrier Reef World Heritage Area. Brampton Island Resort closed in 2011 and no renovations have yet begun. The island is accessible by private boat.
Daydream Island
Family Fun, Couples
Daydream is a small island located within the Whitsunday Islands group. Measuring just 1 km in length and 400m at its widest point. A short ferry ride from Airlie Beach will bring you to this island resort which is popular with day visitors, fun-seeking families and romance-seeking couples. With 296 beautifully appointed rooms and suites, resort facilities include mini golf course, lagoon pools, stunning waterfront restaurants and bars, gym, tennis courts, and an amazing 44-foot outdoor movie cinema.
Hamilton Island


Romance, Family Fun, Foodie, Adventure
Hamilton Island is the largest inhabited island of the Whitsunday Islands. It is also the only island in the Great Barrier Reef with its own commercial airport. A sought-after holiday destination, Hamilton Island is a thriving hive of activity where you can enjoy a wide selection of bars and restaurants, water sports and activities, sailing, golf and six different levels of accommodation. Hamilton Island has a thriving community with a population of around 1,000 permanent residents.

Hayman Island
Romance, Luxury, Foodie
Hayman Island is the most northerly of the Whitsunday Islands. This private island is famous for its luxury resort. Here you can enjoy natural beauty, restorative peace, indulgence and adventure.The resort offers four different types of accommodation each offering magnificent views of the natural surrounds. Taste the creations of the resort's world-class chefs in private dining experiences, dive or snorkel the Great Barrier Reef
and immerse yourself in the bespoke luxury.
Keswick Island
Keswick Island is located in the southern half of the Whitsunday Islands, 34km north-east of Mackay. The island is a natural wonderland with the majority national park. Activities include swimming, snorkeling, diving, fishing, beachcombing and bushwalking. The island is fringed by white sands and coral reef. A small community resides on the island. Accommodation options include self-contained accommodation, camping and glamping.
Lindeman Island
Situated in the southern area of the Whitsundays, Lindeman Island consists of mostly National Park with 7 beautiful beachesand more than 20km of bushwalking tracks. Gap Beach is favoured for snorkelling, with colourful reefs and abundant marine life near the shore. A climb up Mt Oldfield is rewarded with stunning views across Hamilton and Whitsunday Island. Lindeman Island was one of the first Whitsunday islands to be developed, however the resort is no longer operational.

Long Island
Romance, Luxury, Groups
Long Island is the closest island to the mainland in the Whitsundays, just 1km from the coastline. The island takes its name from its narrow but thin appearance of land at 9km long and only 400m wide. Filled with 13km of National Park walking tracks, the island is not short of flora and fauna with 2,500 acres of lush tropical rainforest to explore. Many tracks lead to picturesque beaches and secluded lookouts for a stunning nature experience. There are 2 boutique resorts on the island, both ideal for a couples romantic getaway.

South Molle Island
South Molle located in the Whitsunday Islands is home to Adventure Island Resort, popular with backpackers and budget travellers. Guests have access to a variety of activities including golf, tennis, a gym and plenty of water sports including snorkeling, scuba diving and sailing. The Island has outstanding walking and mountain bike trails, with a 360 degree peak to oversea the stunning Whitsunday islands. Enjoy your favourite cocktail by the pool and then party into the night at the beachfront Discovery Bar!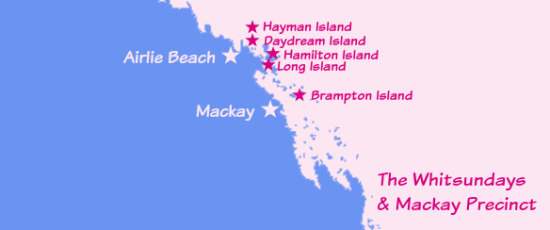 SOUTHERN GREAT BARRIER REEF
- full of characters and uncrowded getaways -
The Southern Great Barrier Reef is just 4 hours drive from Brisbane, stretching from Bundaberg through to Gladstone, Rockhampton and right up the Capricorn Coast. Experience the beauty of an uncrowded getaway, explore quiet coastal towns with local characters and watch turtles hatch. Low-key nature experiences, epic diving and snorkelling, megafauna, and islands you've never heard of are all here for the taking.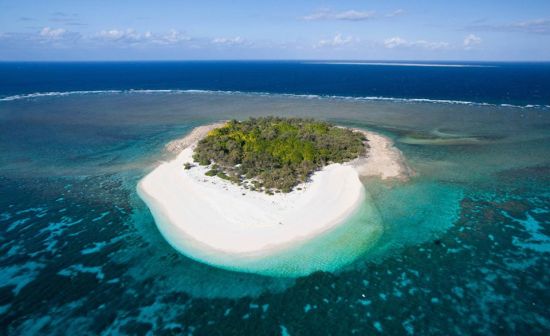 Great Keppel Island
Nature, Wilderness, Budget
Great Keppel Island is located 15km off the coast of Yeppon on the Southern Great Barrier Reef. The island is known for its rich fish diversity, as well as extensive coral reefs. Great Keppel Island also has some of the best beaches of any Great Barrier Reef island with 17 pristine white-sand beaches and bays.Bushwalking tracks are a popular pastime as the islands interior is brimming with native flora and fauna, as well as spectacular lookouts. From tents, cabins and bungalows, through to private beach houses skirting the water's edge, there is plenty of options to choose from. Ferries depart every day to Great Keppel Island from Rosslyn Bay Harbour.
Heron Island
Nature, Family
Heron Island is a natural coral cay located 89kms off the coast of Queensland, with connections from Gladstone. If you're a nature lover, then Heron Island is the perfect vacation for you. Surrounded by crystal clear waters of the Great Barrier Reef, you can step right off the beach into a myriad of colourful reef fish and corals. At certain times of the year female turtles can be seen laying eggs and hatchlings emerge from their nests. The resort also offers an array of activity options for those who like to relax, explore and laze on beaches far from crowds, with no reef "day-trippers" to spoil the peace and quiet.
Lady Elliot
Eco, wilderness, nature, budget
Lady Elliot Island is the southernmost coral cay of the Great Barrier Reef, accessible via an airstrip that services flights from Bundaberg, Hervey Bay, Brisbane and the Gold Coast daily. Situated within a highly protected 'Green Zone', the island is particularly renowned for its scuba diving and snorkelling, and is a sanctuary for over 1,200 species of marine life including manta rays, turtles, amazing array of spectacular marine life and unspoilt coral reef. A small 41 room Eco Resort operates on Lady Elliot providing guests with a genuine eco-tourism experience.
Lady Musgrave Island
Lady Musgrave Island is a 14 hectare coral cay with a 1,192 hectares surrounding coral fringed lagoon. This unique coral island hosts the only navigable lagoon where vessels can enter the calm waters providing the ultimate snorkelling and diving experience. It is one of the more inaccessible areas of the Great Barrier Reef adding to the secluded beauty. Lady Musgrave can be reached from the town of 1770 which is about 5 hours north of Brisbane. Day trips on the Lady Musgrave Experience depart from either the Town of 1770 or from Bundaberg. The island supports a major breeding population of vulnerable green turtles and a minor breeding population of endangered loggerhead turtles. Lady Musgrave Island has a dedicated camping area and visitor facilities.
Wilson Island
Wilson Island is located just 15 kilometres from nearby Heron Island and is one of the smaller coral cay's on the Great Barrier Reef – a secluded paradise. This private island features just 6 luxury safari style tents with private decks and hammocks, enough for just 12 guests at any one time. Your chef will create gourmet dining experiences at every meal. seclusion and the freedom from modern-day living are part of the appeal of this Barrier Reef resort.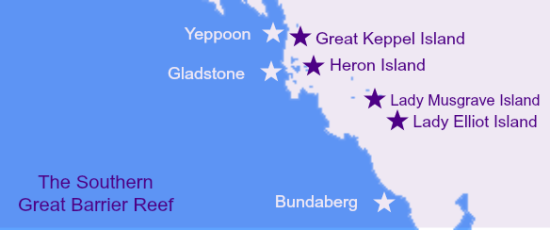 SOUTHERN SAND ISLANDS
- sand dunes, wildflowers & 4WD experiences -
Beyond the Great Barrier Reef you will find a number of southern sand islands including the largest and most famous Fraser Island. A draw card for 4WD enthusiasts, there's not many places where the beach is the main road and sand tracks are the back streets. Moreton Island offers over 420kms of unsealed bliss only accessible by 4WD. The southernmost island in Queensland is South Stradbroke Island, which until 1896 was adjoined to North Stradbroke Island, although a storm split the islands in two.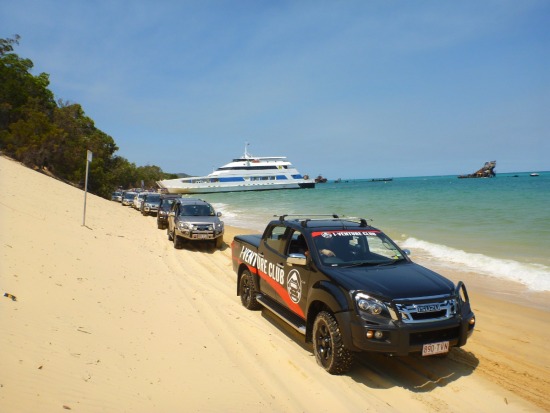 Bribie Island
Bribie Island is located 65km north of Brisbance and connected to the mainland by bridge. It is the smallest and most northerly of three major sand islands at 34km long and 8km wide. Most of the island is uninhabited national park offering beautiful coastal scenery, low-key bush camping spots, excellent birdwatching opportunities and spring wildflowers. With a residential population of 17,000, you will find all the modern services such as restaurants, hotels, shopping centre, movie theatre, golf courses, sports ground and parks located in the suburbs at the southern end of the island.

Fraser Island
Singles, Adventure
The largest and most famous of all the sand islands is Fraser Island. At 124kms long with around 40 freshwater lakes contained within its body, it is the largest sand island in the world. Featuring long uninterrupted white beaches flanked by strikingly coloured sand cliffs, and over 100 freshwater lakes. Ancient rainforests grow in sand along the banks of fast-flowing, crystal-clear creeks. Some of the best beach fishing experiences in the world can be found here. Resort accommodation to suit all budgets is also available.
Moreton Island
Family Fun
Just 25km off Brisbane's shore is one of Australia's largest sand islands. Moreton Island is almost completely sand with no roads, so it is an offroaders heaven with all vehicle access being along the beaches and the few sandy tracks across the Island and around the villages. Tangalooma hosts the island's sole resort and is where a small pod of bottlenose dolphins visit each evening. There are three other small settlements on the west coast: Bulwer near the northwestern tip, Cowan Cowan between Bulwer and Tangalooma, and Kooringal near the southern tip.
North Stradbroke Island
Stradbroke Island comprises of 2 islands - North and South Stradbroke Island. North Stradbroke Island as the name implies is the northern of the two and the second largest sand island in the world. A popular holiday destination for families, couples and adventure-seekers alike, you will find small towns, a number of lakes and beautiful pristine beaches with white sand and crystal clear waters. Located just 1 hr from Brisbane, accommodation options suit all budgets from camping sites to resorts with all the trimmings.
South Stradbroke Island
South Straddie is located closer to the Gold Coast mainland than North Stradbroke, and is 21km long and only 2.5km wide and is the smaller of the two islands. South Straddie is made up of rainforest, wetlands and sand dunes and is home to several species of wallaby. The island offers superb surfing, swimming and bushwalking. There's three council campsites on the island, as well as a café, for those who wish to extend their stay.