ISLAND ACTIVITIES
Here's our top pick of the 21 most popular island activities on the Great Barrier Reef and beyond!
1. Scuba Dive with Giant Potato Cod!
For the dive enthusiast there are a whole variety of excellent dive sites along the Great Barrier Reef. Two Great Barrier Reef islands that stand out for their exceptional diving include Heron Island and Lizard Island.
Hero Island is known the world over for its excellent Great Barrier Reef dive sites, coral gardens and pinnacles. So good is the diving that Jacques Cousteau – the world's most famous undersea explorer of our time, listed Heron Bommie as one of his top 10 favourite dive sites. Heron Island is a natural coral cay located directly on the reef, so there are plenty of dive sites to explore, more than half of which are just minutes away from the jetty.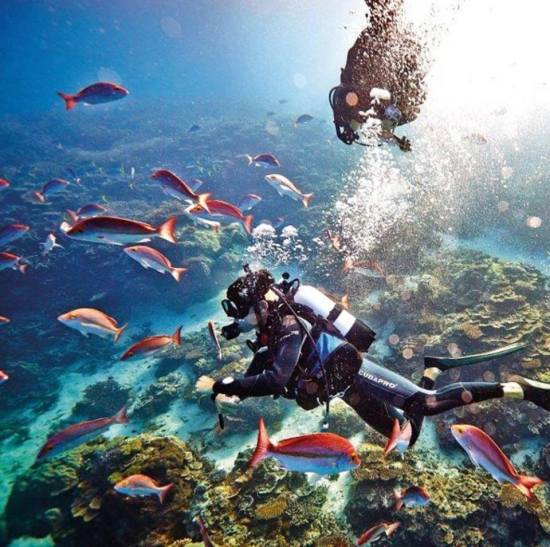 Lizard Island has the advantage of being able to offer dive enthusiasts both half and full day reef experiences to some of the world's best dive sites including the famous Cod Hole, renowned for its huge, but friendly, Potato Cod. These incredibly inquisitive and often boisterous fish will wow you with their mere presence. They have become accustomed to divers over the past 30 years, and will approach quite closely. It's an excellent opportunity to grab some fantastic close up photographs, just be sure and have a wide-angle lens; these fish are huge!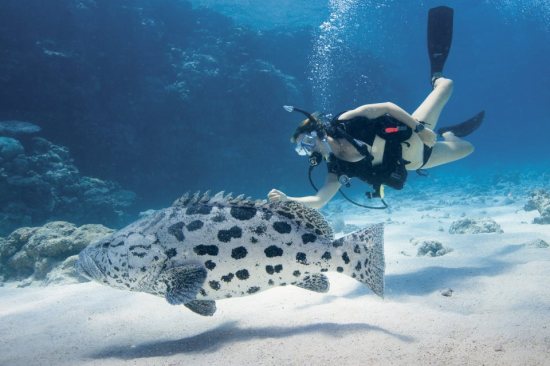 2. Snorkel the reef
Most Great Barrier Reef islands offer the convenience of incredible snorkelling right off the beach. Snorkelling on the reef surrounding Lady Elliot Island is easily accessible. There are two entry sites on the western side of the island, Lighthouse and Coral Gardens, and the Lagoon on the eastern side of the island. The lagoon is ideal for novice snorkellers (tide dependant) and you'll find enough tropical fish, colourful coral, sea cucumbers, starfish, sea urchins, clams and turtles to keep you entertained for hours. The western side of the Island provides a deeper snorkelling adventure for the more experienced snorkellers. This is where you will find the Mega Fauna such as Mantas, Reef Sharks, Dolphins and Whales as well as the abundant corals and fish that make up the remarkable biodiversity of this unique Coral Cay.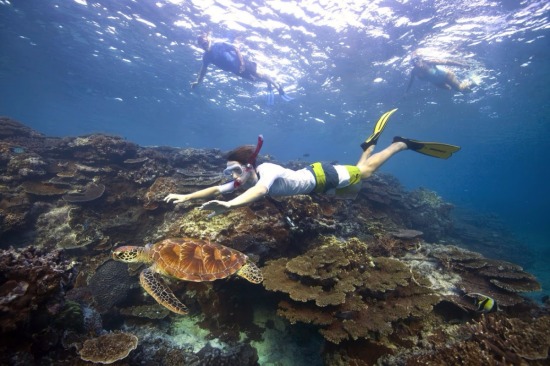 Magnetic Island has a dedicated self-guided snorkel trail at Nelly Bay and Geoffrey Bay. White surface floats guide you along the trail and offer flotation for snorkellers to rest.Grab a handy snorkel trail card from one of the retailers on the island before you go. The card outlines which species of fish and coral you are likely to see at each location and specifically at each float you pass. Subsurface floats are marked with letters that relate to your Swim Card and outline what species of fish you're likely to see at each float that you pass.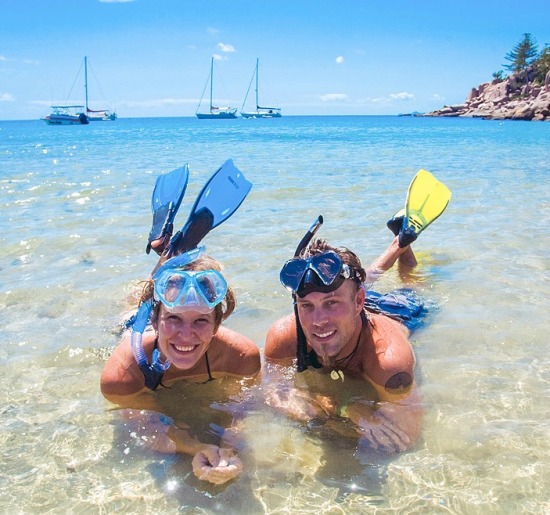 3. Circumnavigate the islands by Jet Ski
For those who like the taste of adventure and a need for speed then a jetski tour is a must! Adrenalin Jet Ski Tours on Magnetic Island established the first tour of it's kind in Australia, 17 years ago. Guide and proprietor Pete – and some lucky tour participants – have witnessed some very memorable events on the waters surrounding Magnetic Island over the years including the birth of a humpback whale, a giant Manta Ray trying to "steal" one of the jet skis, and the injured turtle off Westpoint, who hitched a ride on Pete's ski back to Horseshoe Bay for treatment. A 3 hour island circumnavigation will showcase all the beauty Maggie Island has to offer.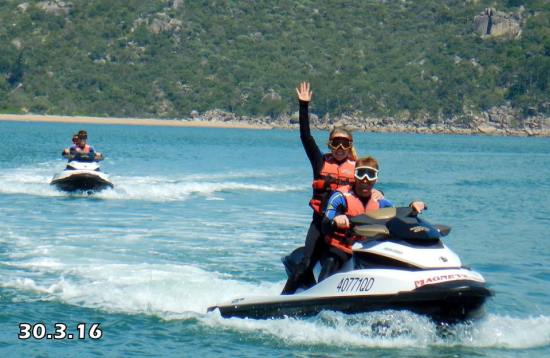 Or if you prefer a bit of island hopping, then a guided tour around the beautiful Whitsunday Islands is a must! Journey to the centre of the Whitsunday Islands, stop over on a desserted beach, visit the natural beauty of South Molle Island and stop over at multi award winning Daydream Island Resort.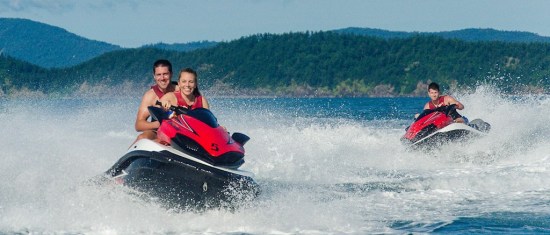 4. Learn to Paddle Board
Stand Up Paddle Boarding (SUP) is one of Australia's fastest growing sports. Learn how to stand up paddle and have SUP lessons at Straddie. Stradbroke Island has perfect supping locations for all levels. Stand Up Paddle sessions are held in a very relaxed environment with calm waters protected from strong winds and currents, and excellent scenery provided by the natural habitat. If you are advanced on a stand up then sign up to some unforgettable surf sessions on the ocean beach.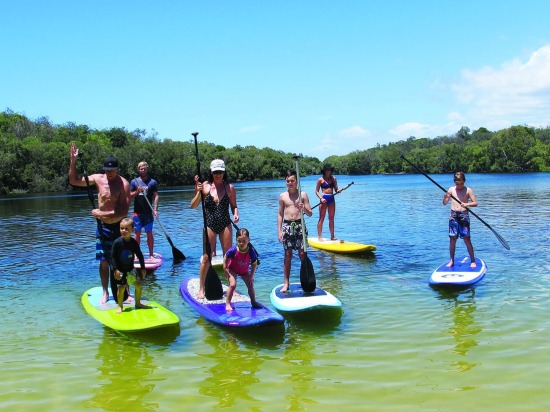 5. View the reef and stay dry!
The world's first glassbottom boat launched at Green Island in 1937. A simple small wooden dinghy with glass floats overhanging the sides, it proved quite a novelty as it was the first time visitors could view the reef without getting wet. By 1948 a more modern version of the glass bottom boat was introduced with glass panels inserted into the floorboards, so people could look straight down on top of the reef without hanging over the sides.
Now you have the opportunity to discover the Great Barrier Reef in Green Island's modern 'Coral Explorer' glass bottom boat. Complete with commentary from the crew, they are a unique and safe way to see the reef for kids, non-swimmers and those who'd just like to stay dry. Tours depart regularly throughout the day and generally last from between 20-30 minutes.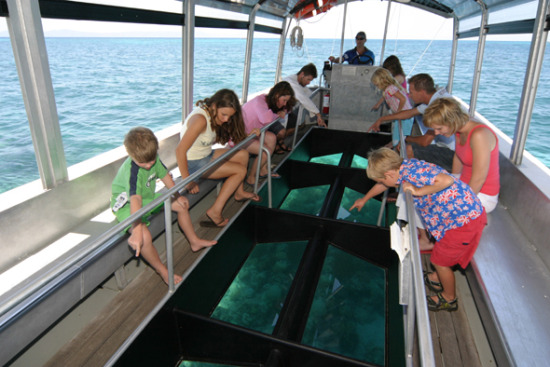 6. Explore beaches and coves only accessible by sea kayak
Sea kayaking Fitzroy Island offers a tranquil way to see the beauty of the Great Barrier Reef and the magnificent shoreline of Fitzroy Island. Exploring remote hidden delights and private beaches with exclusive snorkeling locations only accessible by kayak. Your highly trained kayaking guide will talk about the abundance of marine life that call the waters of Fitzroy Island home. Ideally you will kayak to Little Fitzroy Island where you can enjoy a guided walk up to the island's lighthouse and snorkel some of the best spots surrounding the island, however your guide will determine the best route on the day.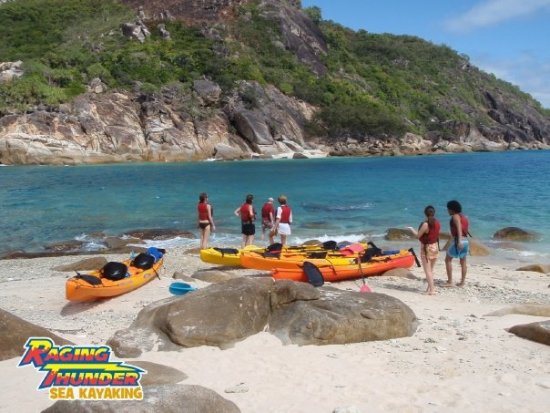 7. The fishing here will astound you!
Haggerstone Island is a fishermans paradise, teeming with fish and surrounded by some of the most magnificent coral gardens in the world. Fishing is fantastic on all levels – rod, reel or fly-fishing, reef, ocean or river and you will find the variety unbelieveable.
Estuary fishing is superb – Barramundi up to 25 pounds, Mangrove Jack, Giant Herring, large estuary cod, small Tarpon and other creek dwellers.
The Blue water options will simply astonish you – Red Emperor, Coral Trout, Finger mark, Spanish Mackerel, Blue fin Tuna, Queen fish, Dog tooth Tuna and Giant Trevally. With knowledge of the area built from thirty years of experience, owners Roy and Anna Turner have the pleasure of guaranteeing an unparalleled fishing experience at the remote Haggerstone Island.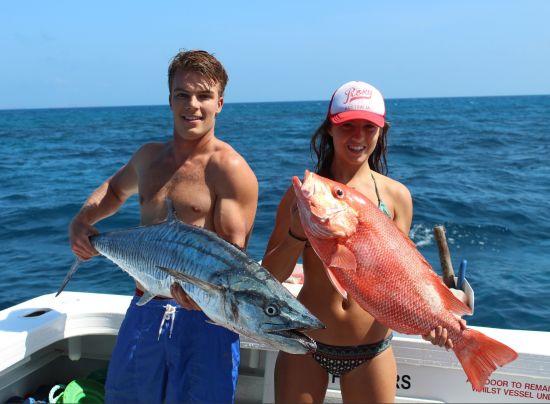 8. Take a Putt
One of the world's most spectacular golf courses can be found at Hamilton Island. The Hamilton Island Golf Club is actually located just a quick 5-minute trip over on Dent Island - yes that's right, this golf course sits on its very own island!
This Par 71, 18-hole championship course was designed by five-time British Open winner, Peter Thomson, and provides a challenge for both professionals and resort golfers. With its elevated perspective, the course offers truly spectacular views out over the Whitsunday Islands. The sophisticated Clubhouse is the perfect spot for enjoying a long lunch, a few refreshing drinks and the incredible views. If you need any new golfing equipment, or want to hire your clubs, there's also a well-stocked pro shop, with friendly staff who can help you find equipment that's right for you.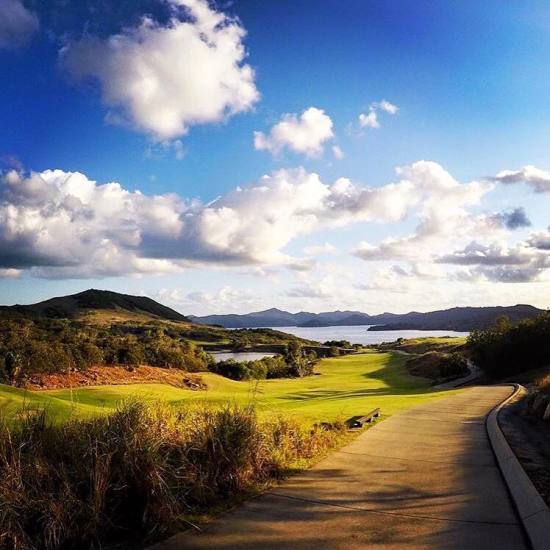 9. View the Reef from another Perspective!
Seeing the Great Barrier Reef from the air is just breathtaking. Lady Musgrave is one of the only coral cay islands surrounded by a natural lagoon made up of coral Bommies, and a beautiful sand sea floor. From the air you will be able to appreciate its incredible beauty and size. Spot manta rays, turtles and migrating Humpback Whales. Lady Musgrave Experience is the newest operator to access this part of the reef and you can combine a trip to view this special part of the reef from the air, land and water.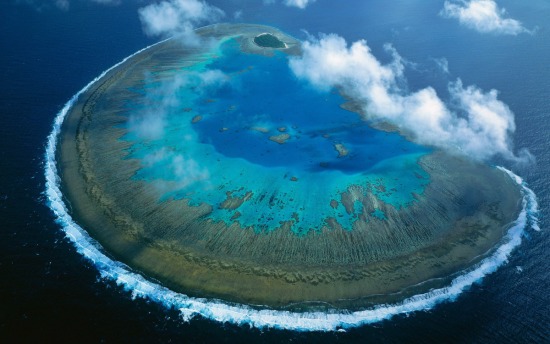 10. Island Hop
Hop on / hop off and cruise through the magical Whitsunday islands. Visit iconic Whitehaven Beach on Whitsunday Island, the most photographed beach in Australia. Walk up to the Hill Inlet lookout, chill out on Whitehaven Beach, go exploring and be dazzled by the most vividly white sand. Continue to famous Hamilton Island and soak up the atmosphere along Front Street with its boutiques, galleries and cafes overlooking the luxury vessels at home in the Marina. Or stop in and 'Putt your way around Australia' at the 19 hole mini golf course at colourful Daydream Island Resort and Spa.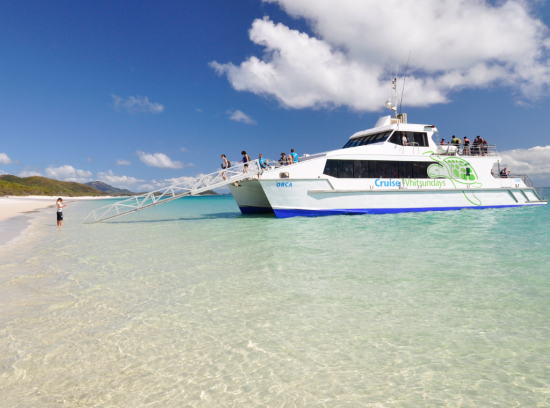 11. Discover spectacular coastline
The islands along the Queensland coast offer spectacular vistas and remarkable scenery, with unforgettable experiences for the avid bushwalker. Most of the islands are unspoilt National Parks allowing you to step away from the bustle of modern day life and appreciate the beauty of nature. Two famous island walks include the Thorsborne Trail and the Whitsunday Ngaro Sea Trail.
The world renowned 32km Thorsborne Trail is situated along Hinchinbrook Island's east coast. Over four days you'll traverse cloud-cloaked mountains, jungle-like rainforest, melaleuca swamps and pristine white beaches. This is a true wilderness walk for the experienced walker. The best time to walk is during the cooler months from April to September.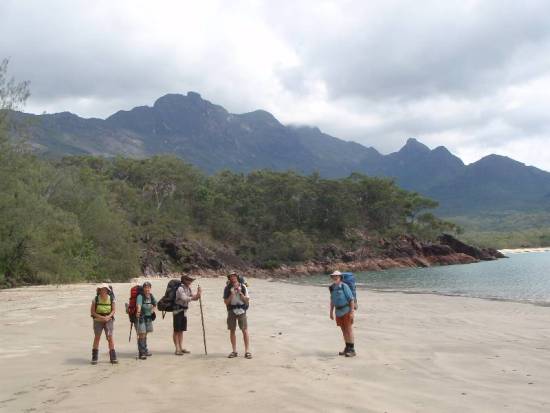 The Whitsunday Ngaro Sea Trail, traverses Whitsunday, South Molle and Hook Islands. Walk through open forests, grasslands and rainforest. Climb rugged peaks, stroll along winding pathways and sandy beaches. The Whitsunday Ngaro Sea Trail has an unforgettable backdrop. For a challenging walk, climb Whitsunday Peak and enjoy spectacular 360 degree views over the Whitsunday islands and mainland.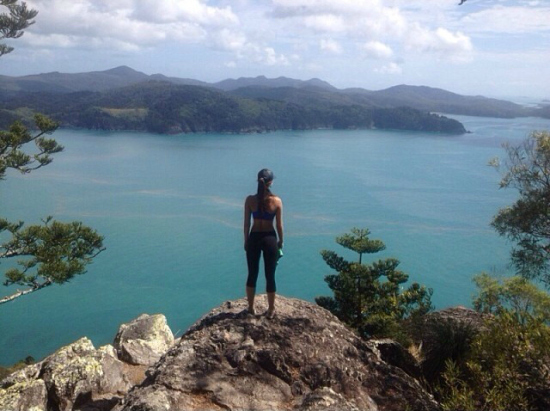 12. Cuddle a Koala
Bungalow Bay Koala Village on Magnetic Island is the only resort in Australia that can boast its own wildlife park on site. In-house guests, day visitors and island residents have the opportunity to learn all about the habitats and unique Aussie animals of Magnetic Island. There are 3 daily wildlife presentations - 10am, 12 noon and 2:30pm. Or join in for Breakfast with the Koalas where you will be able to cook your toast over the fire, make jaffles and cook them in the burning coals as well as being greeted by native Australian animals including Koala's, crocodiles and snakes.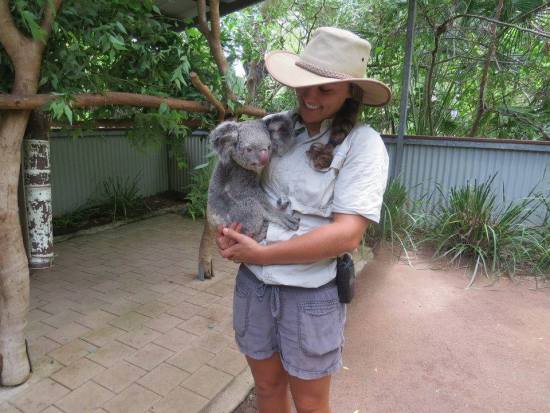 WILD LIFE located on Hamilton Island is a great activity the whole family will love, providing the opportunity to get up close to all kinds of Australian marsupials, snakes, lizards, koalas and kangaroos. You can even meet the park's very own crocodile and have Breakfast with the Koalas too!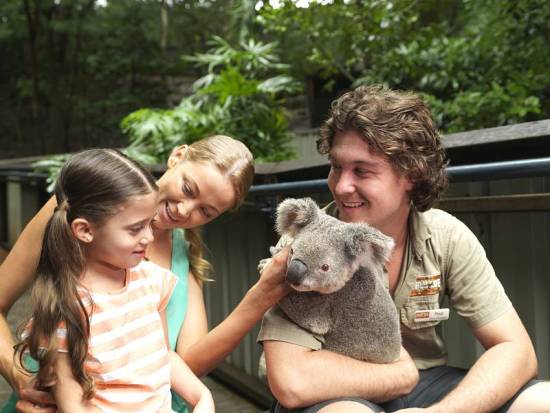 13. Feed the Fish
Just before the sun goes down on Green Island, it's feeding time the island's fishy guests. At 5pm each evening head on down to the Jetty and watch as enormous tropical fish surge to the top of the water for their nightly feed. This is a must do for those wanting to see and learn more about the island's marine life.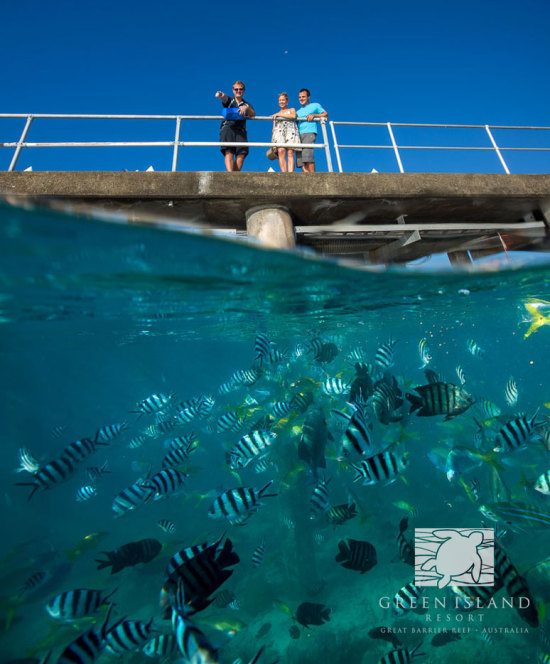 Another must see is Daydream Island's amazing Living Reef. Located at the entrance to the resort, it is one of the world's largest man-made living coral reef lagoons and features more than 140 species of marine fish and 83 species of coral. Free educational feeding sessions are held twice a day, everyday at 10am at the northern end of the island, and 12:30pm at the southern end of the island, where guests have the opportunity to feed animals and learn about the marine eco-system.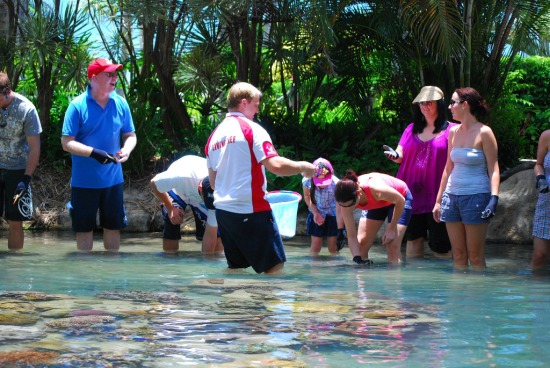 14. Private Picnic in Paradise!
Take the helm of your very own motorised dinghy and discover your own private, secluded bay. With more private beaches than guests on Orpheus Island you're sure to find the perfect spot for you and your love to enjoy a chef-prepared gourmet picnic hamper in paradise! The many pristine bays and reefs that fringe Orpheus. Beach comb, dine, relax or snorkel straight off the beach into pellucid blue-green waters and discover the mystical coral gardens and brightly coloured tropical fish of this underwater world.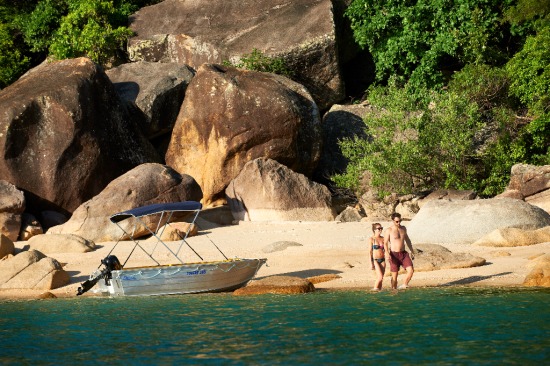 15. Get Pampered
A relaxing Queensland Island Resort experience would not be complete without a rejuvenating spa treatment. Located at the northern end of Daydream Island, the Rejuvenation Spa is an award winning facility that offers an extensive array of health and beauty treatments. Featuring 16 individual treatment rooms, Vichy showers, thermal tables, hydrotherapy tubs, steam effusion showers, dual treatment rooms, dual spa baths and private relaxation areas.
Enjoy panoramic views of the Pacific Ocean as you lap up a pampering treatment. Also available are a variety of signature stress busting massages including relaxation, therapeutic, aromatherapy, reflexology, reiki, kahuna and Indian head massage.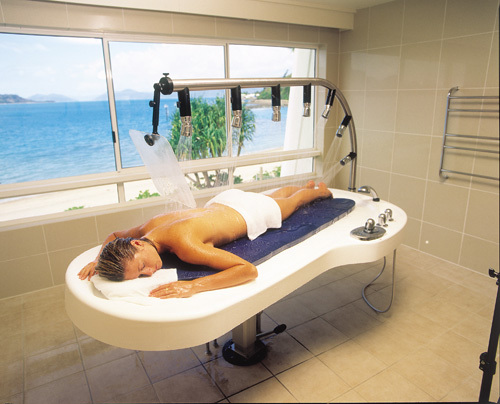 16. Take a tour under the ocean
Explore the Great Barrier Reef at Green Island in the comfort and dry of a semi-submarine. Seated below water level, passengers are treated to a divers view of the coral reef and marine life with an informative commentary by the crew. See live fish feeding and learn all about the marine inhabitants of Green Island. The semi-sub seats 27 passengers and cruises for 30 minutes. This is an ideal option for non-swimmers and families with young children.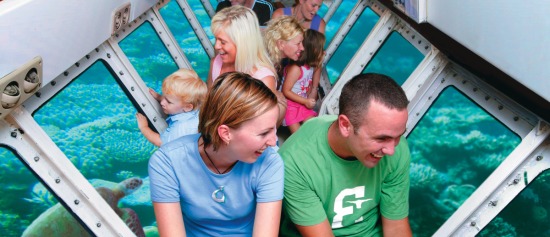 17. Spot native birdlife
Lady Elliot Island is a must-see for any avid bird enthusiast. It is one of the most significant seabird breeding sites in the Great Barrier Reef World Heritage Area, and is the southern-most extent of many species' breeding distribution. Large numbers of seabirds can be found at this site between October and April each year. Some of these species include black and common noddies; black-naped, bridled, crested, roseate and sooty terns; pied and sooty oystercatchers; wedge-tailed shearwaters, silver gulls and the threatened red-tailed tropic bird.
Regular guided tours allow guests to learn about the delicate balance at play in this ecosystem from their migration to their more unique characteristics.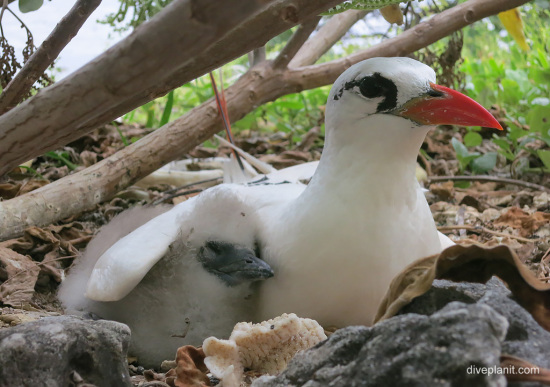 18. Hand-Feed Dolphins
Dolphins play up and down the coastline of the Great Barrier Reef, but to get a guaranteed sighting the best place to go is Tangalooma Island Resort on Moreton Island. Each evening at sunset up to 10 bottlenose dolphins visit the shores and swim into the shallow waters at Tangalooma. These playful creatures, each with their own distinctive and unique personalities have been visiting Tangalooma since the 1980's. View the dolphins off the jetty or experience these curious creatures up close with a once in lifetime opportunity to hand feed them.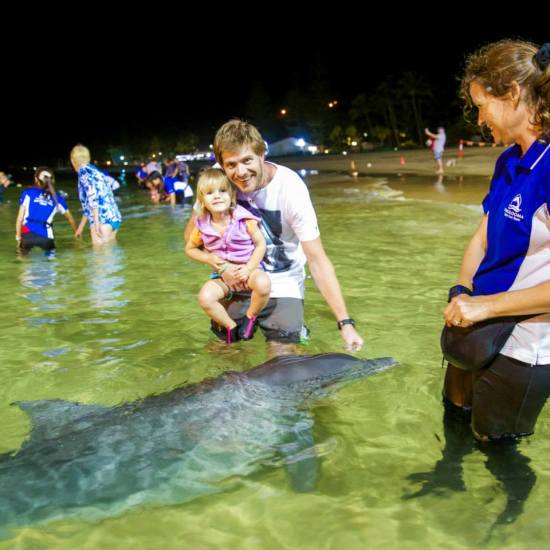 19. Learn to sail in the Whitsundays
There isn't a more perfect destination in the world to learn how to sail than the Whitsundays. Hamilton Island is home to Sunsail Whitsundays Sailing School, which offers both novice and intermediate learn to sail courses. However if hands on sailing is not your thing then why not set your own itinerary and hire an experienced skipper for a truly carefree adventure.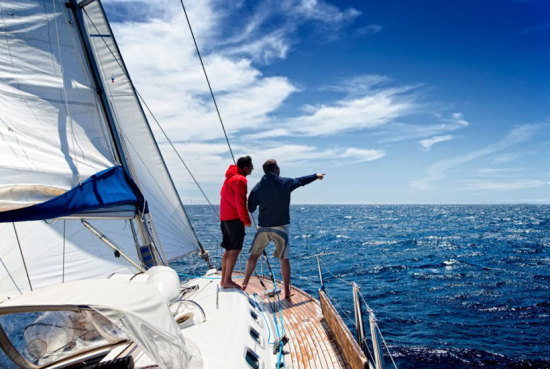 Catamaran sailing is a popular pastime on Hamilton Island. Whether for a joy ride or for lessons, you will love the rush of the wind through your hair and the splash of water as you zip around Catseye Bay. Both kids and adults will love the thrill and challenge of mastering a mini catamaran. With your own catamaran, you can spend as much time as you like cruising around the protected waters of Catseye Bay.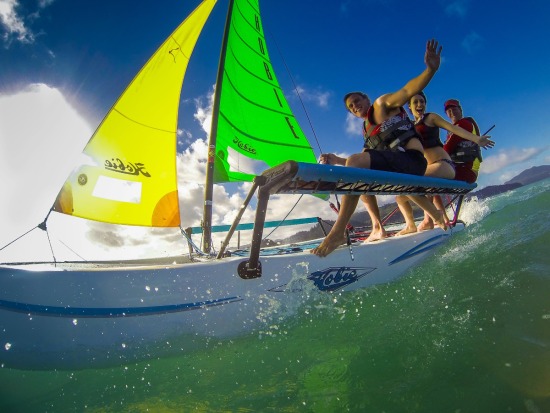 20. Eat. Sleep. Play at the Kids Club!
One&Only Hayman Island warmly welcomes families to experience the beauty of the Great Barrier Reef. A fully-supervised, complimentary KidsOnly programme is available for children four to 11 years of age. Purpose built facilities within the resort aim to entertain and educate children.
Teens (Ages 12 to 17) can choose from a range of exciting activities including sports, excursions and outings. The Wall, a Monolith Stationary 5-Climber used by ESPN for X-Games climbing competitions is an exciting addition to the range of complimentary activities.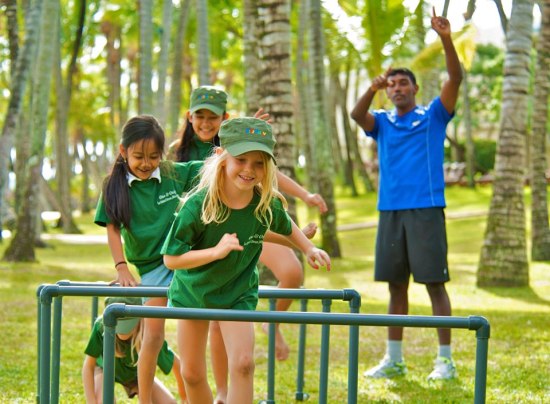 21. Whale Watching
The calm safe waters of Platypus Bay, on Fraser Island's western side, are a prime whale watching spot. Every year between April and November, thousands of humpback whales travel from Antarctica along the east coast of Australia to give birth in the warm waters of Northern Queensland.
On their migration south between August and October, whales stop to rest, play and nurture their calves in Hervey Bay. During this time about a thousand humpbacks spend anywhere from a day or two, to two weeks relaxing and nurturing their calves in the sheltered lee of Fraser Island. Because the whales are taking time out from their migration they provide some of the best whale watching in the world. As they come in close to the boats they are easily seen in the clear waters of the bay.