WHEN IS THE BEST TIME TO VISIT?
Stretching 2,300 kilometres along the Queensland coast, the Great Barrier Reef is a spectacular holiday destination to visit all year round. This expansive region has a tropical climate which is characterised by two seasons - 'the green' and 'the dry'. Temperatures range up and down the coastline from 24°C to 33°C in summer and 14°C to 26°C in winter. Within this vast expanse is an extraordinary variety of marine habitats, each offering a unique set of experiences.
Please refer to our Seasonal Calendar below to determine when you would like to visit.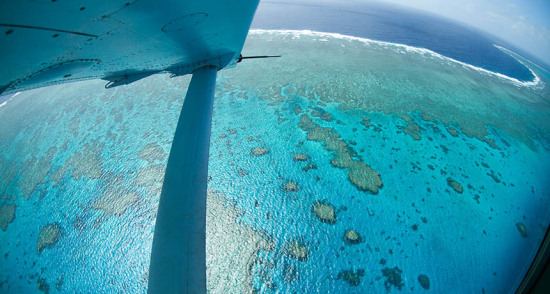 NORTHERN GREAT BARRIER REEF
Haggerstone Island
Lizard Island
Green Island
Fitzroy Island
Bedarra Island
The Northern section of the Great Barrier Reef has a tropical climate with an average year round temperature of 27 degrees. The 'Winter' months (June - August) bring clear, fine days, meanwhile the 'Summer' months (December - February) offer hot and humid conditions.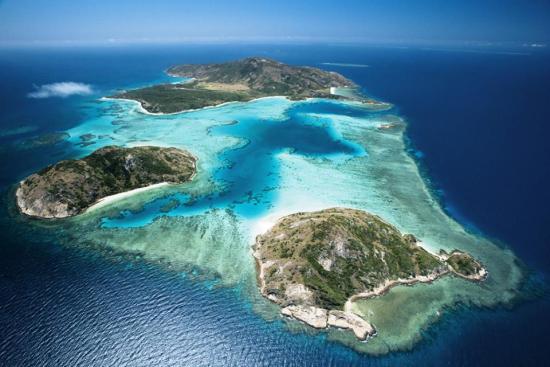 January - March
Summer is breeding season on the Great Barrier Reef and the time of the year when diving is at its best. Much of the annual rainfall is at this time of year, and even though it is the wet season, the winds are generally calm and underwater visibility is sometimes more than 50 metres. Water temperatures are usually up around a very comfortable 29°C. Green turtles are most often spotted grazing amongst Green Island's significant seagrass habitat. The warm waters at this time of year brings marine stingers (jellyfish) especially along the coastline, so make sure you always swim within the stinger nets and wear a lycra stinger suit when snorkelling at the reef, a stinger suit also provides handy protection from the sun. This is also a fantastic time of year to visit the rainforest!
April - June
From April many juvenile fish start to appear on the Great Barrier Reef. This is a transitional time of year, the wet season is coming to an end and the 'dry' season begins. It is still very warm in April, both day and night, with temperatures averaging between 22°C and 29°C. June is the first month of winter. The south-easterly trade winds can be a bit stronger at this time triggering a change in population of many migratory species. Humpback Whales begin their northern migration and curious Minke Whales are commonly sighted on the Ribbon Reefs. These inquisitive draw close to boats in the region, often lingering with divers and snorkelers, as close as a few feet away. This is the only place on earth where you can swim and snorkel with these magical creatures. Water temperatures are usually around 23°C.
July - September
One of the most popular times to visit Cairns is in winter. This is the peak tourist season. Clear skies and comfortable temperatures are perfect for exploring the region. Enjoy clear views from the top of Cooks Look at Lizard Island, or take a hike to the lighthouse on Fitzroy Island for spectacular ocean views. You my even spot a humpback whale or two! The Humpback Whale season in Cairns is at it's peak from July to August.
Researchers believe approximately 2000 of these Whales make the 10,000km round trip to the Cairns region for their annual migration to warmer waters for calving.
The water will be at its coolest dropping to around 22°C/ 72°F, but generally offers excellent visibility with total 'glass out' conditions. Playful Spinner Dolphins may surf the bow wave on the outer reef trips. Goannas often sighted along tracks warming their bodies in the midday sun, meanwhile the constellation of Scorpio dominates the spring night sky, chasing Orion over the western horizon. Marlin season begins in September with Giant Black Marlin cruising the outer reef during their breeding season and Black Flying Foxes start to feed on the mango fruits as they come into season.
October - December
From October the water starts warming back up and the winds have dropped off providing exceptional diving conditions. Many coral reef species breed at this time, with the coral spawning en-masse in October and/or November. Pelagic fish species increase activity around spawning season. Water temperature is heating back up to a warm 29°C in December, with daily air temperatures around 31°C, exceeding 33°C throughout the month. Humidity in Cairns is highest from December through to February. This is the thunderstorm season before the start of the monsoon rains. The cyclone season in Cairns is generally from December to March.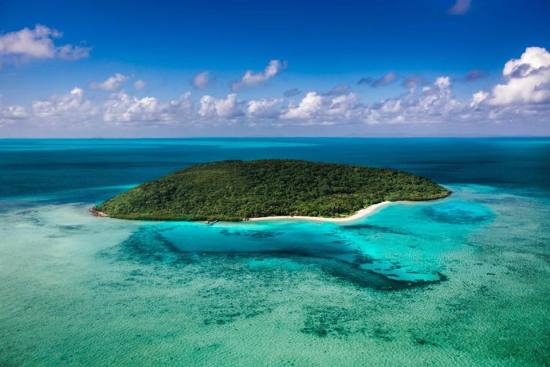 CENTRAL GREAT BARRIER REEF
Magnetic Island
Orpheus Island
Hayman Island
Hamilton Island
Daydream Island
Long Island
The central section of the Great Barrier Reef also has a tropical climate of hot summers, warm winters and bright spring and autumn days, absolutely perfect for visiting year round. Although it is near the Wet Tropics, the Townsville area is in a rain shadow which lends itself a climate typical of the dry tropics (Magnetic Island counts an average of more than 320 days of sunshine per year). Average daily temperatures in the Whitsundays range from around 22 - 23°C in the winter months of June and July, and up to 29 - 30°C in December and January during the height of summer.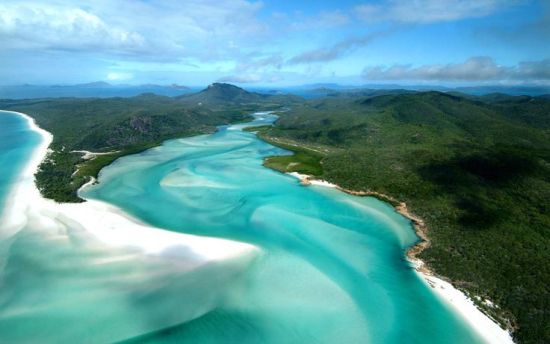 January - March
This is a very tropical time of year, days tend to be sunny and hot with rain showers inbetween, bringing much needed relief to the humidity. The average temperature is 30C. This is a great time for getting out and making the most of the many tours and activities available on and in the water. Jellyfish are prevalent at this time of year around the mainland, islands and sometimes the reef, so make sure you wear a stinger suit during this time.
April - June
This is a stunning time of year! People who live on Hamilton Island say it's the best time to visit. At this time of year there are less rain showers and lots of clear, crisp blue sky days. June is an official winter month, the evenings are cooler and there can be some rain and strong breezes, but most days are lovely clear and blue. The average temperature is 24C, not bad for winter!
July - September
This is a very popular time of year where people in the southern states head north to escape the winter blues. This is tropical paradise at its best, with very little rain and lots of sunshine. You can still lounge on the beach in a bikini during winter with average daytime temperatures around 25°C. The turquoise waters are stinger free, making them perfect for swimming and watersports, and with those south-eastern tradewinds picking up the coast it also makes it perfect for sailing!
Sailing festivities take place at the end of August each year at the Magnetic Island Race Week. This annual six day regatta combines competitive sailing during the day and island festivities across the week. The Audi Hamilton Island Race Week is one of the world's most famous yachting events, bringing spectators and yachties from all around the globe to the Whitsundays for an exciting line up of on and offshore events.
October - December
Pre-Christmas months are very warm but less tropical than the post-Christmas months. The weather is typically hot and sunny. It's definitely another great time to be lapping up the sunshine on the Great Barrier Reef. Magnetic Island is an important breeding ground for Green and Flatback turtles, both listed as vulnerable species. From November through to January these sea turtles come ashore to nest on beaches all around the island. Popular locations include Nelly Bay, Horseshoe Bay, Radical Bay and West point. Average summer temperature is around 30°C , with water temperatures at a very comfortable 29°C.
SOUTHERN GREAT BARRIER REEF
Great Keppel Island
Heron Island
Lady Elliot Island
Lady Musgrave Island
Queensland is subtropical in the south, where summers are warm, winters are mild and autumn and spring offer the very best climates. Stunning Lady Elliot Island is known as the home of Manta Rays, who are present all year round but more abundant in the cooler months.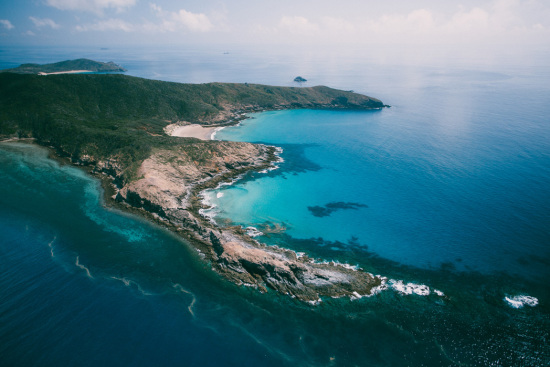 January - March
January is the peak breeding season for sea birds, so they are very active this time of year. Migratory wedge-tailed shearwaters (Mutton Birds) nest in burrows, with chicks hatching in February. Female turtles lay eggs during this time at Heron Island, Lady Elliot Island and on some beaches around the keppel Bay Islands. Green and Loggerhead turtles are the only ones that nest on Lady Elliot Island between November and March. Nests can be found anywhere around the Island but the majority of nests have been recorded in the sand dunes in front of the resort and either end of the airstrip. At the end of the nesting season thousands of baby turtles push through their sand nest on their way to the sea. Turtle hatching season normally runs from February through to April. Average temperatures in summer range from 20°C to 29°C. Rainfall is usually concentrated at this time of year when tropical thunderstorms can bring a cool change after sultry days.
April - June
From April the humidity eases and daytime temperatures beautifully warm, perfect for swimming, snorkeling, kayaking and fishing.The last of the turtle hatchlings can be seen emerging from their nests, and young Wedgetailed Shearwaters are still learning to fly in preparation to leave by the end of April. Peak Manta Ray season is from mid-May to mid-August. Lady Elliot Island is a proven major hotspot for manta rays.The manta ray is the world's largest ray, with a wing span of up to seven meters. Despite their large size, manta rays are solitary gentle giants feeding upon some of the smallest creatures in the ocean: microscopic plankton. Humpback Whales' northern migration begins in June. They are often seen passing through waters around the Islands.
July - September
In winter in the southern part of Queensland, temperatures drop down to an average maximum of 20°C particularly when prevailing south-easterly winds blow, so some warm clothing such as a jacket or sweatshirt is recommended. Sea water temperature is around 18°C which is perfect for the humpback whales that migrate from their Southern Ocean feeding grounds to warmer waters to mate and calve. Hervey Bay is world-famous for its jaw-dropping whale watch experiences. The shape of the bay combined with the expansive coastline of Fraser Island forms a naturally protected and calm playground for the humpback whales every year from July to November. Research has shown the humpbacks spend on average 10 days in the waters of Hervey Bay.
October - December
One of the most spectacular events to occur on the Great Barrier Reef happens in October, November and sometimes December. The annual synchronised spawning of corals takes place after a full moon and only when the water has reached the right temperature. Egg-engorged corals spawn across the reefs in spectacular sync.This mass reproduction only happens once a year.Being located at the southern tip of the Great Barrier Reef, the water around Lady Elliot Island takes a little longer to hit the perfect 26 degrees so coral spawning takes place a little later here. Turtle mating may also be observed in the surrounding waters. Nesting occurs on Heron Island and Lady Elliot Island between November and March.
southern sand islands
Fraser Island
Moreton Island
Brisbane and nearby islands have a subtropical climate, perfect for enjoying the outdoors all year round. During the warmer months (November to March) temperatures hover around 28°C while winter time (June - August) is generally dry and mild. Most winter days are sunny with average temperatures of around 17°C. Rainfall can be unpredictable, however, May to October is your best bet for solid days of sunshine. Fraser Island, located 500km at the southern part of the Tropic of Capricorn, enjoys a warm temperate climate. It is classified as maritime sub-tropical, where the temperatures are actually moderated by the ocean that surrounds it.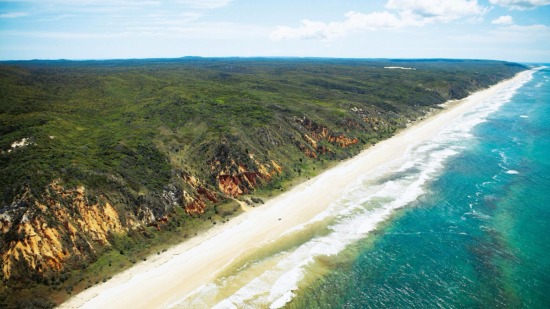 January - March
In summer temperatures range from 23°C - 30°C with the average being 28°C, overnight minimums rarely going below 20°C. This is a beautiful time of year for swimming and in water activities. This is also the wettest time of year with about 160mm rainfall per month, this is usually very brief by way of an afternoon storm which usually is gone as quick as it arrived. Occasionally jellyfish are reported in these temperate regions including Fraser Island and Moreton Bay, so please adhere to latest advice and warnings. Being a sand island mosquitoes and sand flies can and do make their presence felt, especially in the warmer months for be sure to have some repellent on hand.
April - June
Autumn (March - May) signals the end of hot summer temperatures. This time of year is not too hot and not too cold – which makes it just right for some island adventures. The average daily temperature is between 15-25°C. Fraser Island welcomes its transient bird population as part of their annual migration north for the winter. Some 354 species of birds have been officially sighted on the island including the rarely seen Powerful Owl and the elusive Ground Parrot. The onset of autumn also marks the beginning of dingo mating season. During this time dingoes tend to be more active as they search for mates. It also means that they tend to howl more at night. The nights are gloriously clear in autumn and perfect for star gazing. As the Southern Cross follows its track through the skies - it is perfectly positioned above the Kingfisher Bay Resort when looking backwards from the jetty.
July - September
In Winter (June - August) the nights are cool and early morning temperatures crisp. The days are generally fine and sunny with mild to warm temperatures averaging 11-21°C. There are not too many rainy days during the winter, making it the perfect time to walk and go exploring. The absolute best time for fishing is between July and October with the best chances great catch. Not only are the waters teeming with a variety of fish life but there is also the opportunioty to spot Humpback whales as they migrate their way towards the south.
October - December
Spring (September - November) is one of the best seasons to be in Queensland with warm, sunny days, tempered by cool sea breezes. Bird watching is popular on Fraser Island, especially at this time of year when the eastern curlew, the largest migratory wader can be seen, as well as beautiful birds taking flight off to their next destination. You can even sign up for a guided bird watching walk if you want to learn more about the birds you are seeing. Moreton Island hosts a wide variety of wildflowers in the spring time. There are many walking and hiking trails on the island where you can view several vegetation types including heathland and eucalypt woodland.
Moreton Bay also supports a large population of Green and Loggerhead Turtles which come to nest on Moreton Island between November and February on the beach. The marine park has at least five "year round" resident turtle species; green, loggerhead, Pacific ridley, flatback and hawksbill turtles. In fact, Moreton Bay Marine Park has one of the most important feeding areas for loggerhead turtles along the east coast of Australia.
Wildlife Calender

SUMMER

(Dec - Jan- Feb)
• Turtle nesting and hatching.
• Fish spawning reaches maximum with clouds of damsels, wrasse, surgeons and parrotfish either laying eggs or broadcast spawning.
• Jellyfish, seasquirts, salps and siphonophores fill the water column and are fed upon by fish and turtles.
• Whale sharks are seen more often, particularly in the far north feeding on plankton-rich waters.
• Peak breeding activity for most seabird species occurs.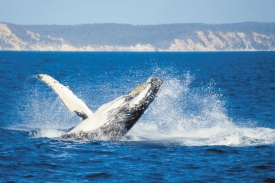 AUTUMN

(Mar–Apr–May)
• Humpback whales arrive in the Southern Great Barrier Reef as part of their winter migration to calve, mate and socialise.
• The famous hump-headed Maori wrasse establish a pecking order with large brilliant bluefaced males over one metre long controlling patches of reef.
• Black-tip reef sharks give birth.
• Seabird chicks begin a life of their own.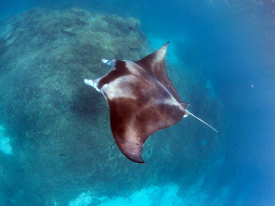 WINTER

(Jun–Jul–Aug)
• The best time to see migrating humpback whales in the northern Great Barrier Reef. Calving takes place from June to August before turning south again.
• The dwarf minke whale can be seen in the northern Great Barrier Reef.
• Dugong mating starts.
• Manta rays gather at feeding locations near the surface.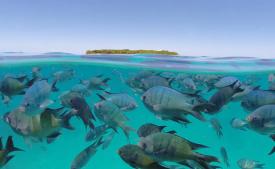 SPRING

(Sep–Oct–Nov)
• September is the best time to see humpback whales in the Southern Great Barrier Reef as they migrate to Antarctica with calves.
• Some fish species spawning.
• Turtle mating and nesting.
• Breeding activity begins for most seabird species in October.
• The annual coral spawning event is when mass synchronised coral reproduction occurs over just a few nights, sometime between October and December depending on water temperature and moon phases.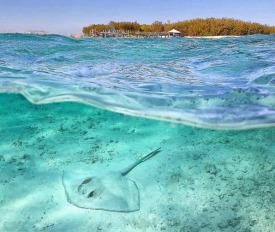 ALL YEAR ROUND
• Corals are the very building blocks of the reef.
• Six of the world's seven species of marine turtle (green, hawksbill, loggerhead, flatback, Olive Ridley and leatherback) are residents of the Great Barrier Reef.
• Blue-spotted ribbon tail and lagoon rays can be found shuffling in the coral sand all year.
• Giant clams are highly abundant on the reef.
• Dolphins and some small whale species can be encountered at any time of the year either in the open water or close to coral reefs.
• Clown anemone fish can be found at any time of the year.
• White-tip and black-tip reef sharks are present all year round.
Events Calender

February
Fantasea Cruising Magnetic Destination Adventure
---
March
---

June
---

July
V8 Supercars Castrol EDGE Townsville 400
Townsville 400 Super Street Party
Australian Festival of Chamber Music
Winterfeast Bundaberg & North Burnett Region
---

August
Airlie Beach Race Week Festival
Audi Hamilton Island Race Week
---

September
SeaLink Magnetic Island Race Week
Great Adventures Green Island Ocean Swim 2016
Pas de Deux in Paradise
The Australian Ballet - qualia, Hamilton Island
Magnetic Island Bay Dayz Festival
Ona Mission Multisport Adventure
paddle, run and ride
---

October
PGA Professionals Championship
Hamilton Island
Amateur Golf Championship
Hamilton Island
---


November
Great Barrier Reef Swim Heron Island