THE ISLAND RESORTS OF QUEENSLAND
Queensland's string of idyllic islands contain some of Australia's most dreamed-about tropical resorts. With a warm year-round climate, the islands provide the perfect escape for recharging the batteries anytime of the year.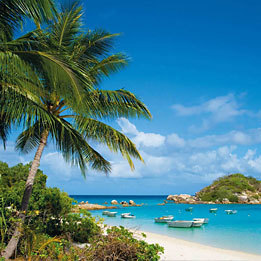 From luxurious castaway experiences in the north, to sophisiticated and stylish resorts in the Whitsundays and low-key nature adventures in the south, it's easy to see why Queensland Island Resorts are consistently in demand.
Discover white sandy beaches, crystal blue waters, colourful corals and exotic fish. Whether you're looking for romance, adventure, family fun or a quiet getaway, it is here that you will find your own slice of paradise...
Our travel consultants are passionate about Queensland and all it has to offer. We look forward to helping you plan an incredible getaway.
3 NIGHT GREEN ISLAND GETAWAY
The 3 Night Green Island Getaway Package offers unbeatable value, inclusions and relaxation.
Spend 3 nights on Green Island Resort including transfers from Cairns, full breakfast daily, watersports and a full day trip to the Outer Barrier Reef!
Prices start at just $1670 for 2 Adults.
Call our local office on 1800 663 396 for more info or to make a reservation
3 NIGHT REEF & ISLAND FUN PACKAGE
The Reef & Island Fun is our most popular & best value Fitzroy Island package.
This 3 or 4 night package offers a magical tropical rainforest island experience combined with a daytrip to the Outer Barrier Reef with Sunlover Cruises. Ideal for families and couples, here you can experience the crystal clear waters of the Great Barrier Reef with contemporary resort accommodation, creating a memorable Island experience.
Package includes:-
3 or 4 nights accommodation on Fitzroy Island Resort
Return ferry transfers from Cairns
Sunlover Great Barrier Reef cruise
Semi-Submarine tour at Reef
HOLIDAY PACKAGES & TOURS
ALL ABOUT QUEENSLAND ISLAND RESORTS
MORE INFO ON QUEENSLAND ISLAND RESORTS
The Great Barrier Reef stretches along Queensland's coastline, beginning in the Bundaberg area in the south and extending 2,300km north to the Torres Strait. It includes some 3000 coral reefs, 600 continental islands, 300 coral cays and about 150 inshore mangrove islands.
Only a handful of these islands are inhabited, and it is here you will find some of Australia's most popular holiday destinations. Dotted along the coastline spectacular island resorts are set amongst stunning World Heritage areas. Catering from budget to luxury and everything inbetween, there is an island experience to suit everyone.
Luxury: Hamilton Island
Situated right in the heart of the Whitsundays, Hamilton Island is the largest inhabited island of the Whitsunday Islands and the only island on the Great Barrier Reef to have its own commercial airport. You can soak up the resort atmosphere within hours with direct flights from Melbourne, Sydney, Cairns and Brisbane to Hamilton Island. The world-class facilities include the Hamilton Island Golf Club, the striking Hamilton Island Yacht Club, Spa Wumurdaylin, and a host of hotels, resorts, restaurants, bars and activities. Hamilton Island is a fresh and lively place, and the perfect destination for those who love an active holiday combined with luxury and style.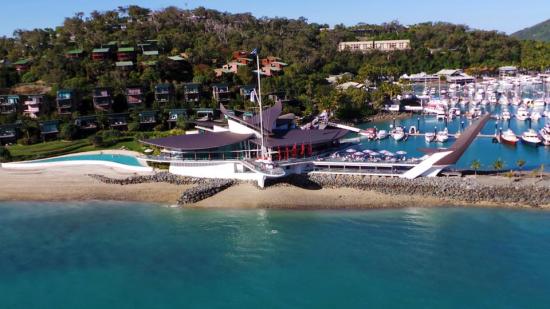 Adventure: Magnetic Island
Magnetic Island is the island playground of Townsville. Located just a short 25 minute ferry ride from the mainland, you can be stepping onto palm fringed beaches, exploring magnificent granite headlands, swimming through beautiful coral gardens, cruising the island in a topless convertible, riding a horse bareback into the ocean, taking a leisurely sunset kayak, cheering on your favourite toad at the weekly toad races and dancing the night away under the stars with the beach as your dancefloor at Australia's ONLY Full Moon party. With more than 320 days of sunshine per year, not only is Magnetic Island a great place to escape the winter blues of the southern states, but a great place to enjoy a tropical escape and outdoor living all year round.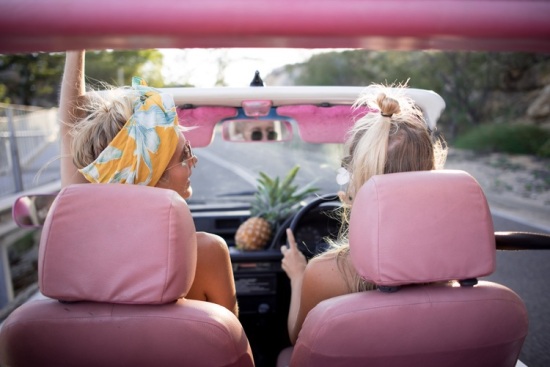 Budget: Great Keppel Island
If you're looking for a budget 'castaway' experience, then this is the island for you. Situated at the southern end of the Great Barrier Reef, Great Keppel boasts seventeen perfect white sandy beaches and excellent swimming, snorkeling and scuba diving. Budget beachfront accommodation makes for the perfect weekend escape or holiday retreat for your family. Here you'll find a more natural and peaceful island experience than other Queensland holiday islands. Ferry transfers are just 30 minutes from Rosslyn Bay Harbour, 10 minutes drive east of Yeppoon.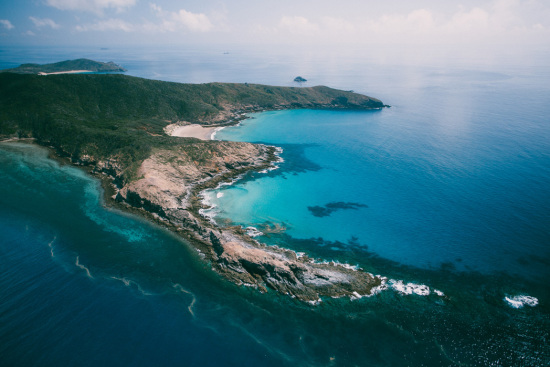 Eco-friendly: Lady Elliot Island
Popular with divers and snorkelers for the stunning underwater landscape that surrounds it, Lady Elliot Island ofers a small low-key resort with a focus on eco-tourism. The island strives to provide a genuine eco-tourism experience by delivering engaging educational activities. Divers can walk straight off the beach to explore an ocean-bed of shipwrecks, coral gardens, bommies and abundant marine life. The island is a nature lover's sanctuary, and regardless of what time of the year you visit there is always so much to see including manta rays, turtles, birdlife and migrating whales. Being the most remote Great Barrier Reef island,
access to Lady Elliot is on small chartered aircraft.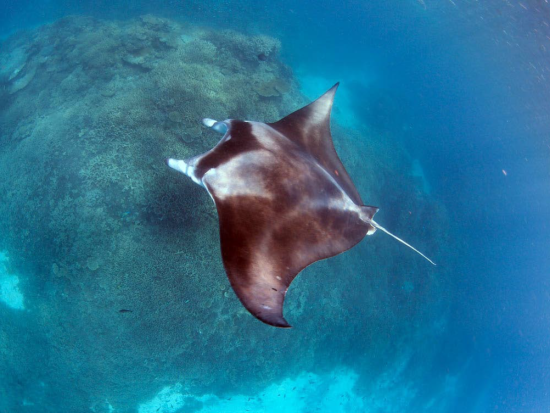 Family: Daydream Island
At only 1km long and 200m wide, Daydream Island is packed full of activities such as kayaking, jet skiing, sailing, rainforest walks, catamarans, windsurfers, three swimming pools, snorkelling, tennis courts, gym, day spa, giant chess, mini golf, kids club, outdoor cinema and one of the world's largest man-made living coral reef lagoons where free educational feeding sessions are held twice a day. Amonst this are a range of dining options, great beaches and a large resort with five grades of accommodation. Daydream Island is the closest Whitsunday Island to Airlie Beach. Just a short 30 minute ferry transfer makes it easily accessible for a fun family getaway.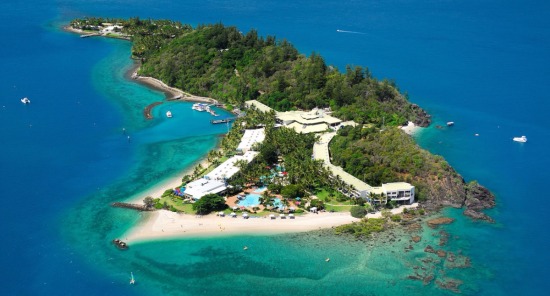 Nature: Heron Island
If you're a nature lover, Heron Island really is a special place... Located 89 kms off the Queensland coast, Heron Island is a natural coral cay situated directly on the Great Barrier Reef. Here you can snorkel straight off the beach amongst spectacular corals, there are also plenty of dive sites just minutes away to excite any dive enthusiast. The island is a protected habitat for a stunning variety of wildlife including sea birds, turtle hatchlings and humpback whales - and with no television, no mobile phone reception and no reef day-trippers, Heron Island provides an ideal back to nature experience. The resort features 109 comfortable rooms, all with ceiling fans and either balconies or terraces. This is the perfect place for both couples and families to relax, explore and laze on beaches far from crowds.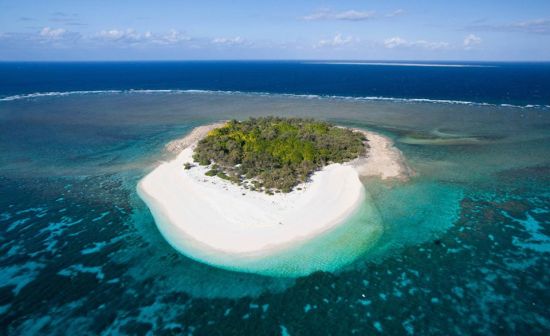 Romance: Bedarra Island
Bedarra Island is all about peace, privacy, and the ultimate in barefoot luxury. Featuring just 8 exclusive Villas nestled into the tropical rainforest, all with spectacular ocean views. Chill out on your own deck, by the bar, or in one of the private hideaways dotted around the grounds. The open terrace restaurant, bar and lounge are the heart and soul of Bedarra, where you'll quickly be on first-name terms with the small front-of-house staff, kitchen staff, chef and marine biologist. Many guests become repeat visitors which is understandable when everything is taken care of in the all-inclusive rates, all you need to do is settle in, relax, unwind and enjoy the ultimate in seclusion, romance and luxury.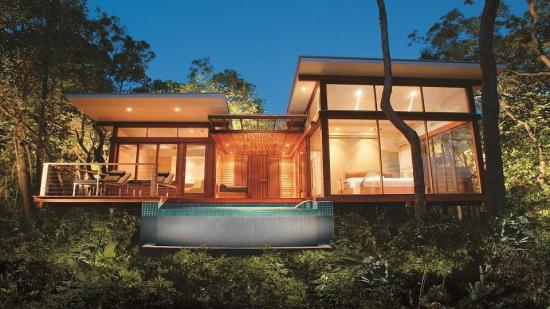 Indulgence - Orpheus Island
Located just 80km north of Townsville, Orpheus is a secluded island hideaway accommodating just 28 indulged guests. Accommodation rates are all-inclusive of gourmet meals showcasing locally-sourced, wholesome, freshly caught and seasonal produce from the region. Accompanied by a selection of Australia's finest wines, the Orpheus cellar has been carefully crafted to ensure perfect harmony between cuisine, climate and environment. Not to be missed is the island's signature Dining with the Tides experience. Here you can enjoy an intimate dinner for two under a starlit canopy. The experience includes a meeting with the culinary team to design a six course menu (1 x amuse bouche, 2 x entrées, 2 x mains and 1 x dessert) with three wine pairings (entrée, main, dessert) from a select cellar master list.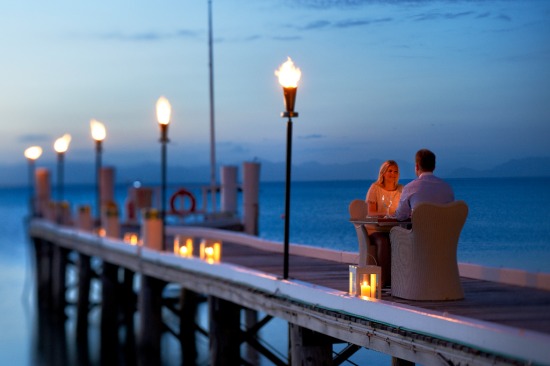 Singles - Fraser Island
Fraser's wilderness, with its 75 Mile Beach gazetted highway, is the perfect place to explore solo or take friends on an adventure weekend. World Heritage-listed Fraser Island is the world's largest sand island. Here you can 4WD next to coloured sand cliffs, hike through rainforest, meet native wildlife, whale-watch and swim in freshwater lakes ringed with gold. Isolation has ensured that Fraser's dingoes are the purest breed in eastern Australia. Other native mammals include wallabies, possums, flying foxes and echidnas. Whale watching is a popular past time between August to October with some of the most prolific whale spotting in Australia found in the sheltered waters of Platypus bay, on the western side of Fraser Island. Resort accommodation is available to suit all budgets.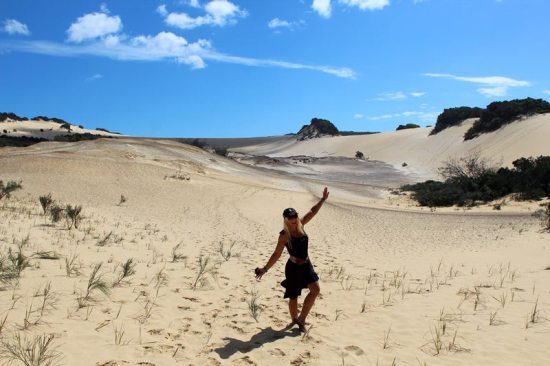 Wilderness - Haggerstone Island
Situated at the remote northern end of the Great Barrier Reef, Haggerstone Island offers a true Robinson Crusoe style experience. This luxury private island features an all inclusive boutique resort that has taken over 30 years to build. Catering for up to 10 guests at any one time, each timber hut has been handcrafted blending rustic charm with barefoot luxury. All meals and socialising are done in the main pavillion with its open kitchen, bar complete with stuffed crocodile heads and vintage bottles from shipwrecks.
Daily adventures include fishing and spear fishing, snorkelling over pristine coral reef, swimming with manta rays and dolphins, visiting the heritage listed sand dunes of Shellbourne Bay or a nineteenth century ship wreck, exploring uninhabited islands, cays, beaches, bays and the wild rivers of Cape York. Meals are prepared from fresh produce either grown on the island or caught at sea.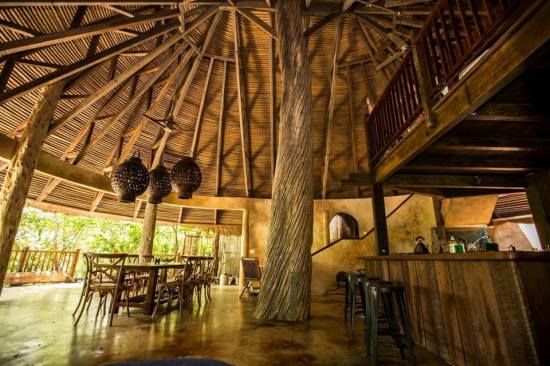 Blissful Seclusion: Lizard Island
Lizard Island Resort is a secluded Great Barrier Reef island resort located 240km north of Cairns and 27km off the coast of North Queensland. Accessible only by charter flight from Cairns, Lizard Island is reserved for the fortunate few. 24 powdery-white beaches, 40 luxurious suites and no day-trippers entice couples to this private piece of paradise. Enjoy picnics and sunset beach degustation on private beaches, five star cuisine in the beautiful Salt Water restaurant and indulgent spa treatments in the Essentia Day Spa. Relax in style in one of most luxurious five-star resorts in Far North Queensland.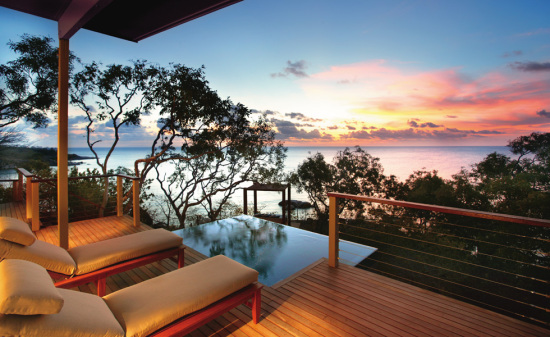 Short Break - Green Island
Just a 45-minute ferry ride from Cairns, Green Island island makes for a perfect island escape. This beautiful 15-hectare coral cay may be small (you can walk around it in 30 minutes), however its big when it comes to the amount of activities on offer: with pools, restaurants, bars, rainforest walks and watersports facilities including snorkel gear hire, windsurfers, and paddle skis, glassbottom-boat trips, parasailing, and scuba diving there is plenty to keep you and your family entertained. Once the day-trippers have left the activities continue including fish feeding, star gazing and night spotting. Green Island Resort has stylish suites to suit families and couples, each with a private balcony. Island ferry transfers are included.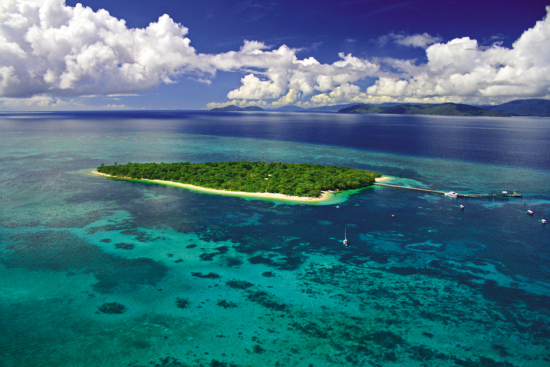 Adults Only: Paradise Bay
With a maximum of just 20 guests at any one time and no children, day visitors, mobile phones or internet, Paradise Bay Resort on Long Island offers the ultimate in luxury, romance and relaxation. Feast on gourmet meals with superb wines to match, enjoy lazy days around the infinity edge pool or explore the Whitsundays on the resort's private catamaran. You'll be amazed to discover how much you enjoy your sleep with uninterrupted water views from your beachfront bungalow, king size super soft beds and cool breathable sheets - its an essential part of the experience! Enjoy adult time at this tranquil and stunningly beautiful location.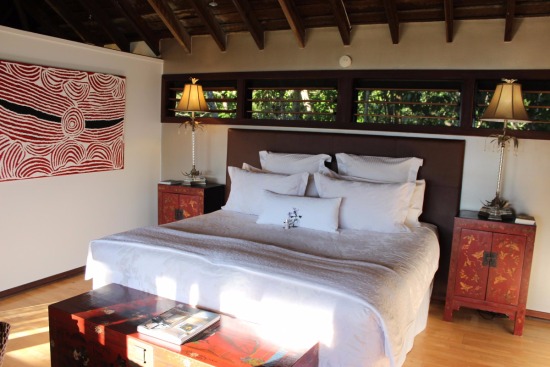 ISLAND ACTIVITIES
Come play in natures playground!
With so many activities on offer for families, nature-lovers, adventurers and romantics, the biggest decision will be how to fit it all in. Most island resorts offer a range of complimentary activities which usually include snorkel equipment, paddle boards, catamarans, guided walks, fish feeding and more. Charges usually apply to activities such as scuba diving, parasailing, fishing charters, kayak tours, sunset cruises and spa treatments. These activities can be arranged on the island.
Need some inspiration? Check out our top list of enticing island activities below to get your holiday juices flowing!


YOUR QUOTE
STAY 4 PAY 3!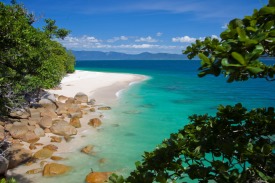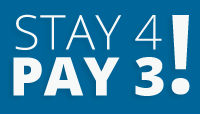 FITZROY ISLAND RESORT SPECIAL!
The special applies to Resort Studios & 1 Bedroom Suites at Fitzroy Island Resort.
Offer valid for stays until 31st March 2017. Find out more -->>
3 NIGHT PACKAGE!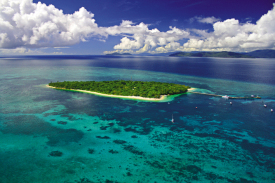 - 3 nights on Green Island
- Return Ferry Transfers
- Buffet Breakfast Daily
- Outer Barrier Reef Cruise
- Watersports & much more!
STAY 4 PAY 3!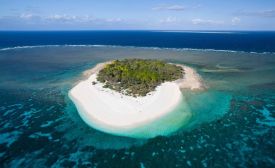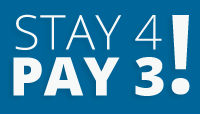 Includes accommodation & breakfast daily. Offer valid for sale until 31 July 2016 for travel between 1 April 2016 and 31 March 2017. Find out more -->>